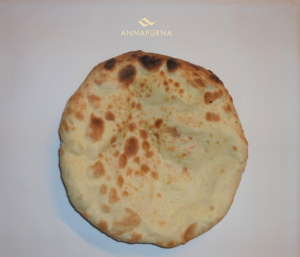 Mr. André RISSER, a Frenchman native of Alsace living in London since the 1950s, opened on November 22, 1967 at 32 rue Berri in Paris, a stone's throw from the Champs Elysées, The Annapurna: the first Indian restaurant in Paris.
The inauguration took place in the presence of public figures, diplomats and Mrs. Reita Faria, Miss World 1966 (first Asian Miss World).
Mr. André RISSER in 1967 was not very sure how the French were going to welcome this new exotic cuisine, spicy and little known at the time.
To reassure them and tantalize their senses, he had the idea of ​​garnishing a Nan,a bread baked on the walls of a charcoal fired tandoor oven, with a cheese of very French origin.
The association of a French cheese with an Indian traditional bread, in the mind of Mr. RISSER, could only constitute an additional asset, and success was at the
rendez-vous !
This recipe, which was the result of an association of ideas combining different cultures in an original and novel way, was a huge success.
Today, all Indian restaurants in France, and in the rest of the world, including in India, now display on all their menus:
the Cheese Nan.